At BOQ Finance we pride ourselves on being relationship-based asset finance specialists. We don't have customers, we have partners - long term partners with shared goals. We provide solutions for big business deals but at our heart we are a home-grown business that passionately wants you to succeed.
Part of the BOQ Group, coupled with our deep industry experience and finance expertise, we have what it takes to deliver the right solution for our partners and their customers. We're about pushing boundaries to achieve what can seem impossible.
When you're with BOQ Finance, you can be confident we'll proudly back your business. Let us prove it.
We passionately believe that we only succeed when our partners do too. A key point of difference is our intermediary model, we don't compete – we complement.
Our ability to seamlessly package finance and banking products, coupled with our extensive and diverse business expertise, means we can provide a full service, end-to-end finance solution that transforms the way our partners do business with their customers, right through to one-touch products.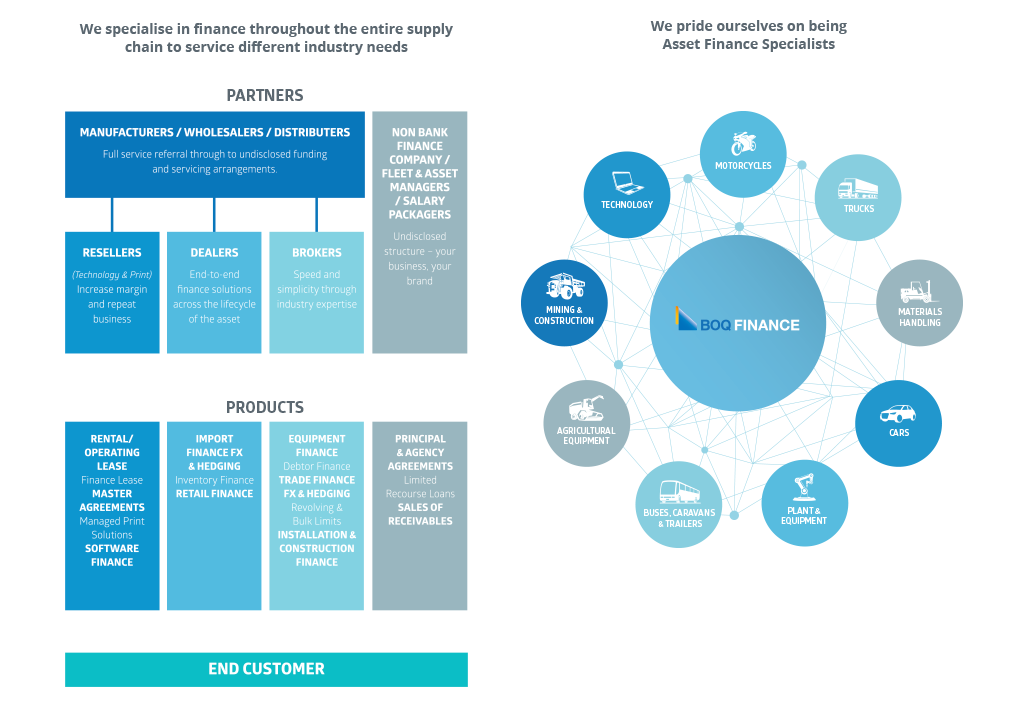 You may not know it, but we're a leading player in the mid-market asset financing segment across Australia and New Zealand.
5.5% Australian market share in core asset finance (SME approx. 8%)
30% market share of Australian motorcycle finance market with wholesale and retail offerings for Honda, KTM, Ducati and Husqvarna
Superior vendor finance provider running programs for Apple and Lenovo
40 years solid experience in asset finance and leasing
We are proud to say was continue to come first in key customer satisfaction categories.*
Pre-Deal Service
Price
Credit Requirements
Ease of Use